Your dog is
family
. If you're like us, astro turf and a cement box just won't cut it for your best friend when you go away. Dogs like to feel real grass under their feet and fresh country air as much you as do. The unwavering loyalty and true friendship your pooch provides deserves to be rewarded with a vacation too!
We now offer several boarding options to best suite your dog's individual needs.
Brickhouse Farm
(Jen and Mike's homestead) in Sharon Springs, NY is our original boarding location for well socialized dogs. The farm is set on 30 gorgeous acres complete with a swimming pond, meadows, apple orchard and a 1799 colonial house. Resident dogs Argo, Pip and Crow help watch over the chickens, goats, sheep and three children that also live at the farm. Dogs are a part of our family when they stay at Brickhouse and are free to run, play, swim and relax throughout the day (star gazing and farm fresh eggs with breakfast at no extra charge). A stay at Brickhouse Farm is truly a vacation for your dog!
We are pleased to announce that our new ranch location is now open in Ballston Spa. Similar to the farm, the ranch is a home away from home in the country for your dog. We've converted the existing horse barn on our family's property to become a dog hotel--fully climate controlled and complete with large, comfortable suites, individual play yards and a central "dog park" for socializing and playing, your pooch is sure to enjoy their stay. We believe that boarding should include everything your dog needs--we don't charge extra for providing top-notch care. 24 hours of boarding costs $60 per dog (each additional dog in family is 20% off)*,and includes as much play time and exercise as your dog desires, feeding and any applicable medications or supplements, toys, treats, a comfy bed, and lots of TLC.
For puppy boarding, special needs boarding, dogs who are working on training or simply when the farm and ranch are booked, we also offer specialized boarding with our regionally renowned trainer, Cassie Kennedy. Rates vary per situation, please inquire. Boarding at the Kennedy Ranch includes the same personalized attention and TLC that has earned Hounds on the Hudson the reputation as the premier boarding service in the Capital Region. Need more training? Ask about our intensive board & train program!
Please be advised that we are not a kennel. Due to the personal nature of our service, we have limited availability and boarding fills up very quickly. We recommend making your reservation as soon as you know you will need our services. Please note that the form below is used for requesting a reservation only and is not a confirmation of boarding. We will email you a confirmation within 24 hours of submitting your request.
Any dog who has not boarded with us before is required to complete a one night trial board before being accepted as a boarding client. Please visit our
FAQ page
for more information about the trial board and other boarding questions.
Taxi service to the farm or ranch is available for $20 each way or $35 round trip. Please inquire about which areas our taxi service is provided. Taxi service is not available on Saturdays--you are welcome to arrange an extra night at the farm or pick up/drop off in Sharon Springs or Ballston Spa if your travel plans begin or end on Saturday.
*Please add an additional $5 per night of boarding for holidays.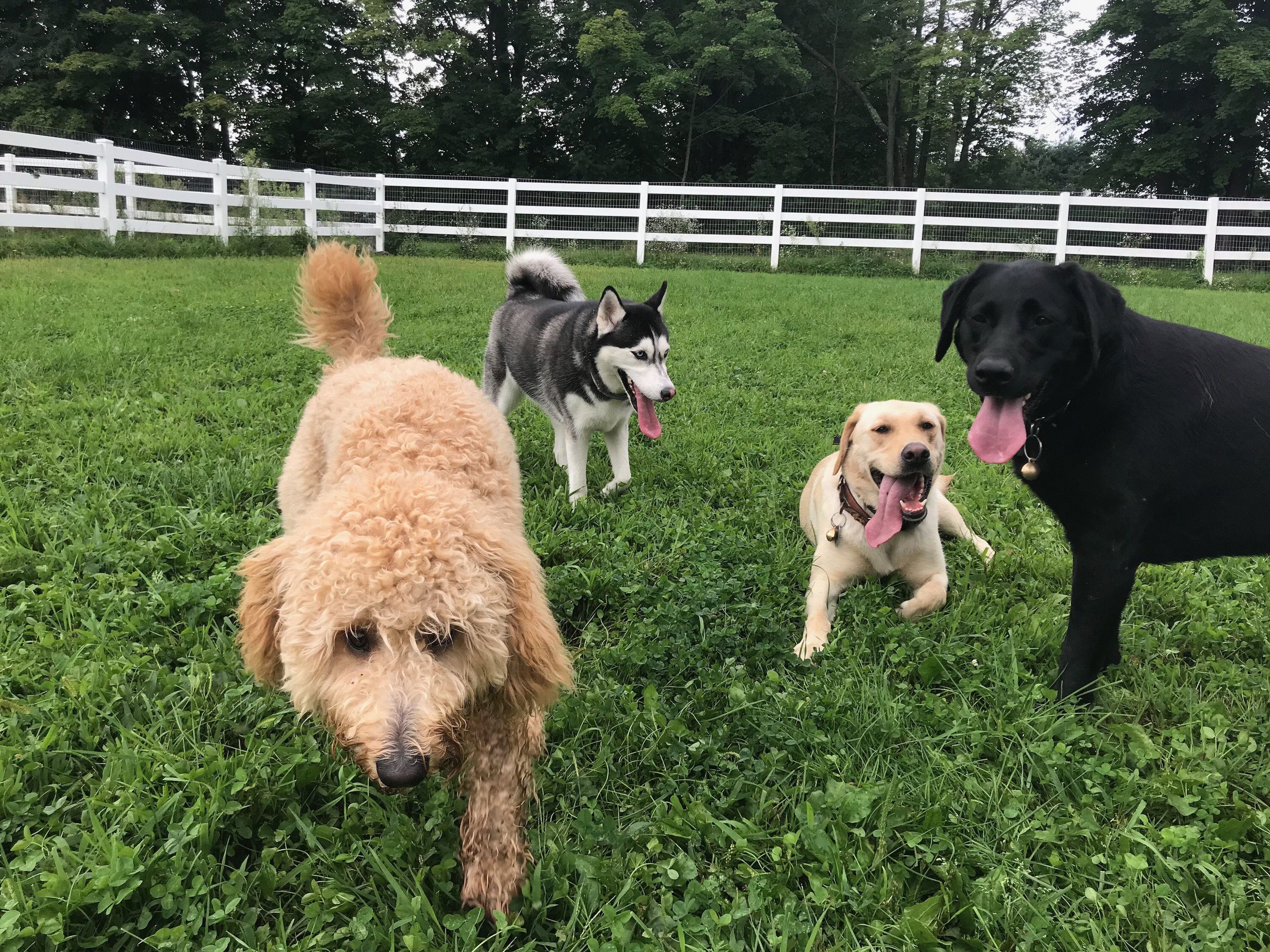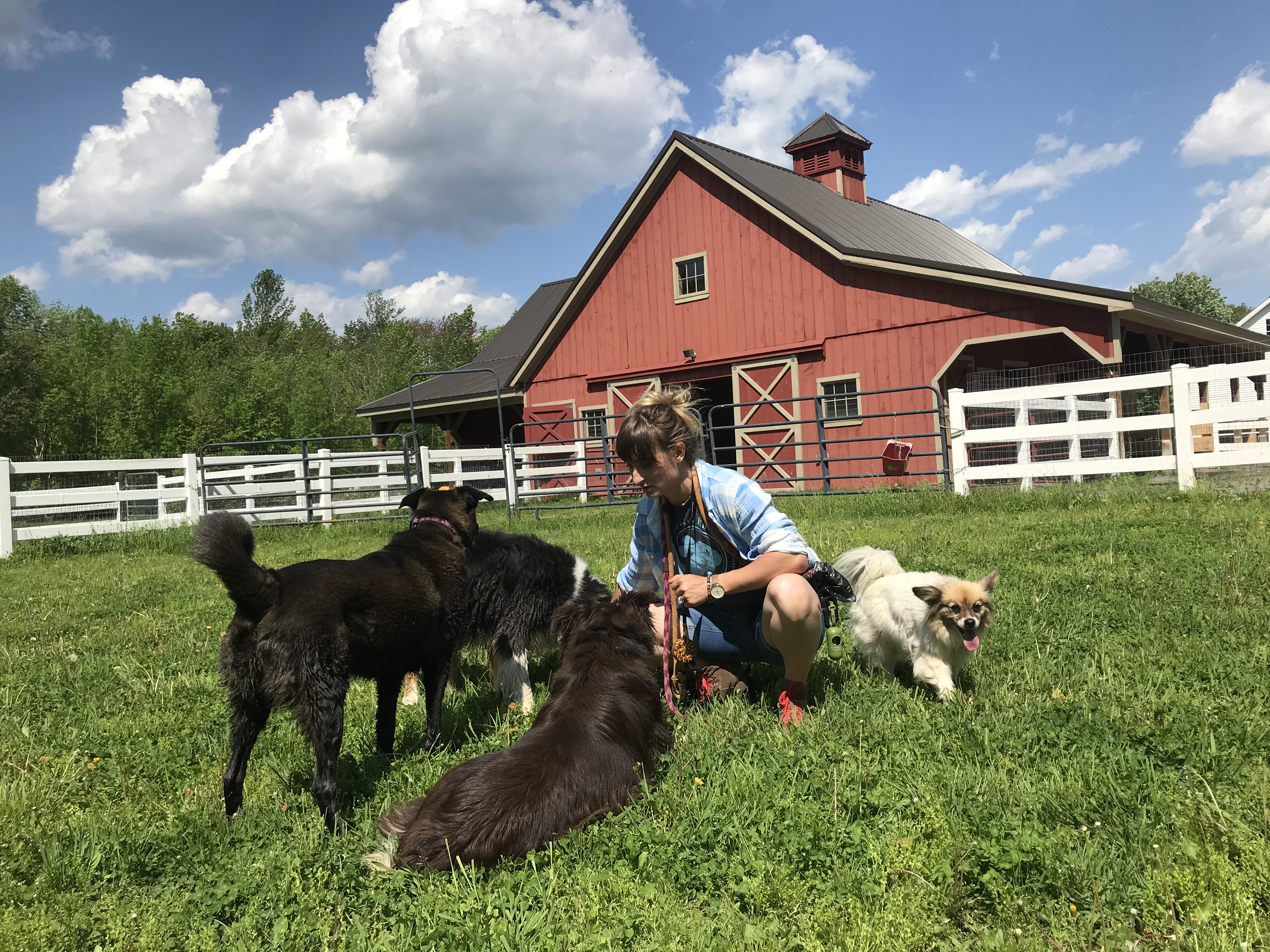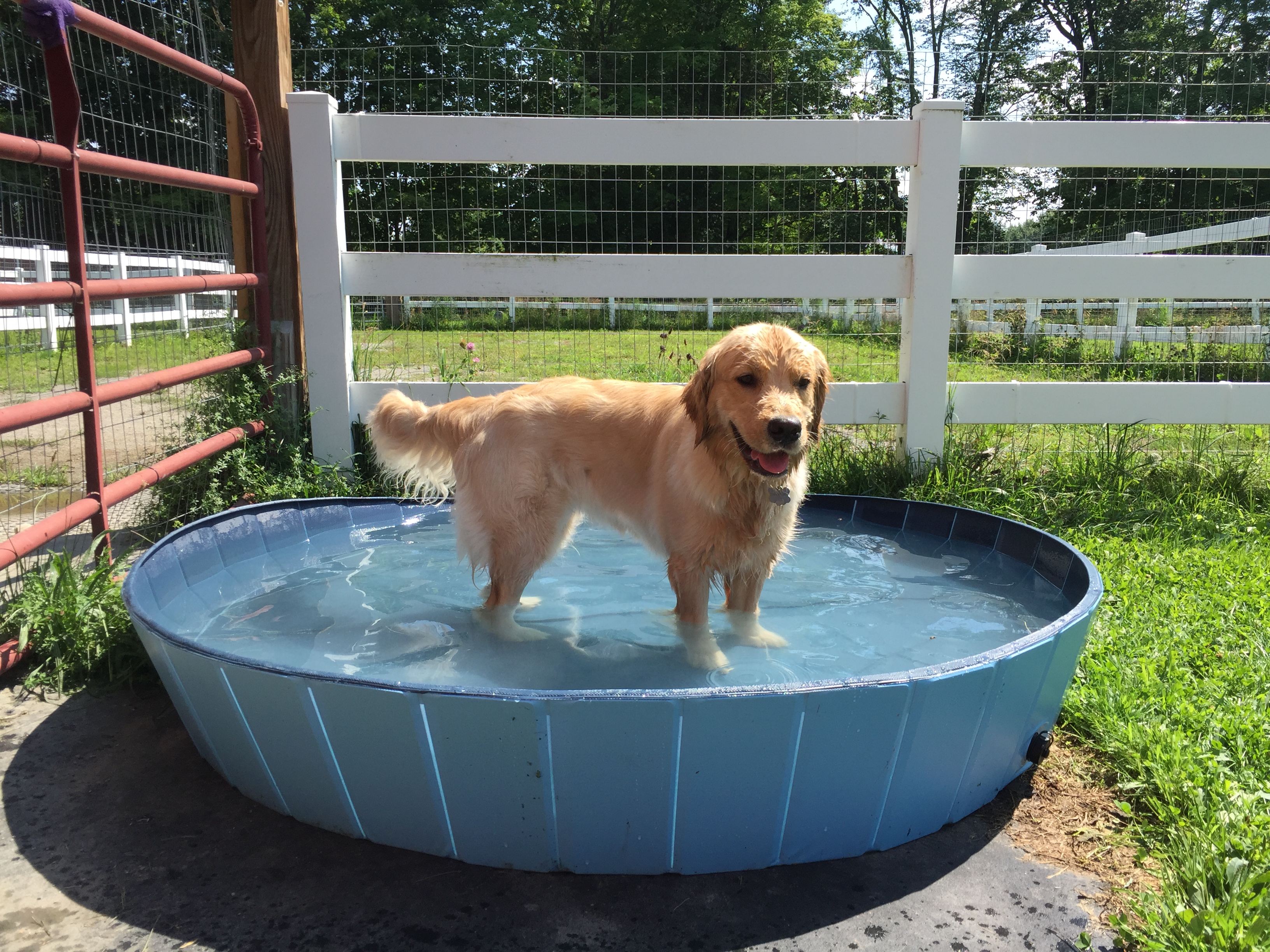 Looking for a unique daycare solution? We now offer day boarding (ie, doggie daycare) at our Ballston Spa ranch for well-socialized pups. Dogs have the opportunity to play on real grass all day long and are given a cozy suite with cot and bed for rest time. This is low-stress, high fun day boarding at its best. We are intentionally small volume and only accept a handful of reservations each day.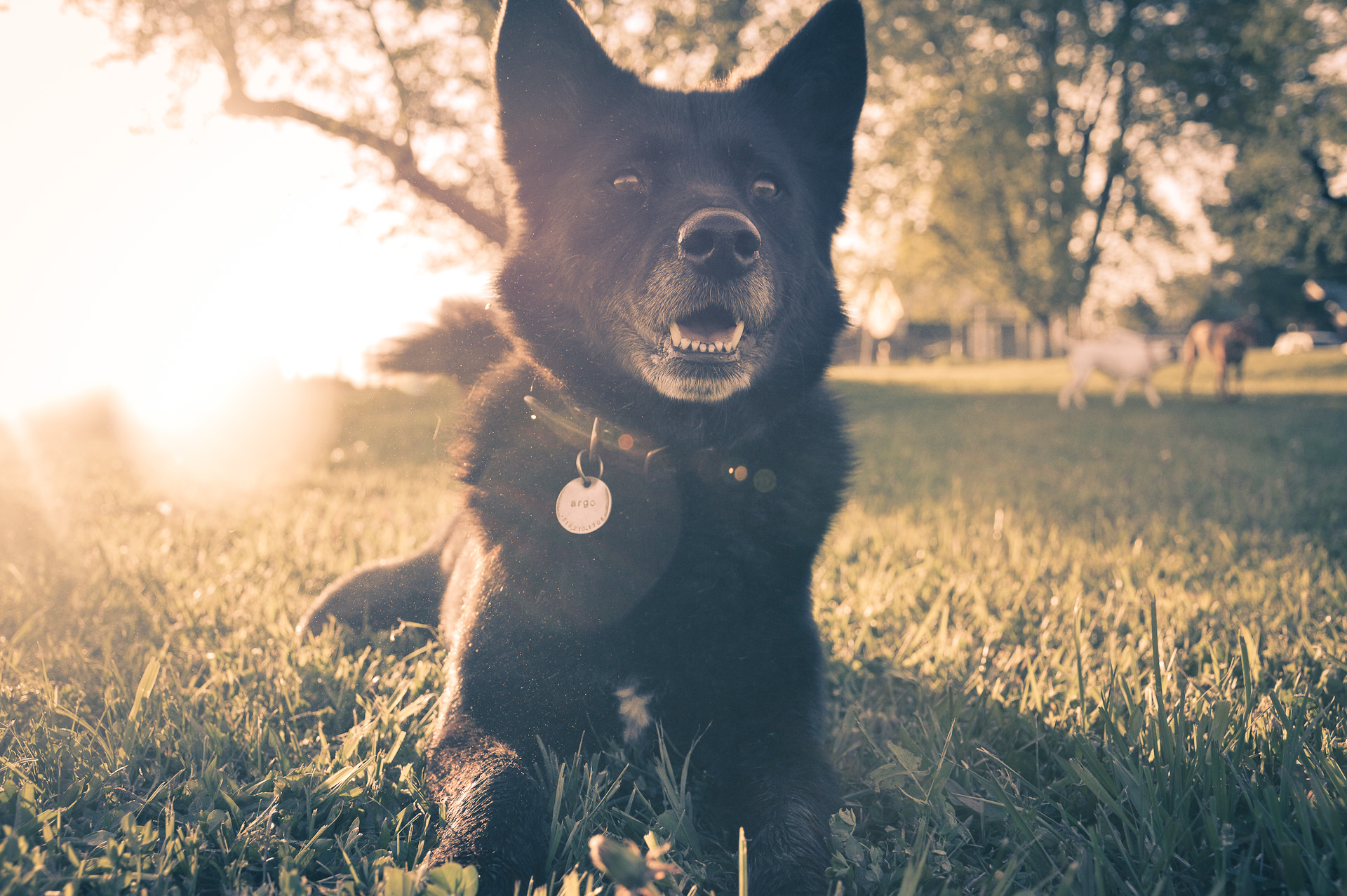 Trial Board
---
Prerequisite for boarding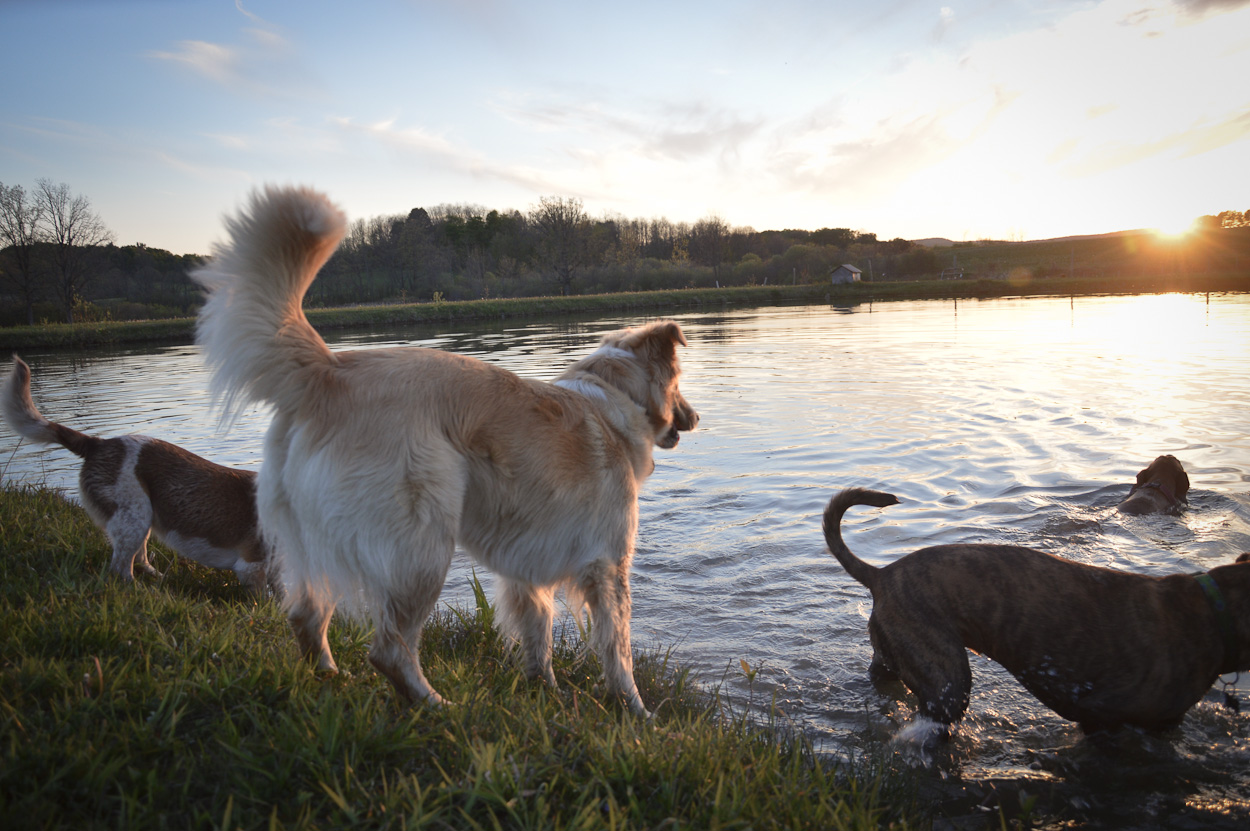 Overnight Boarding
---
Social cage-free boarding including daycare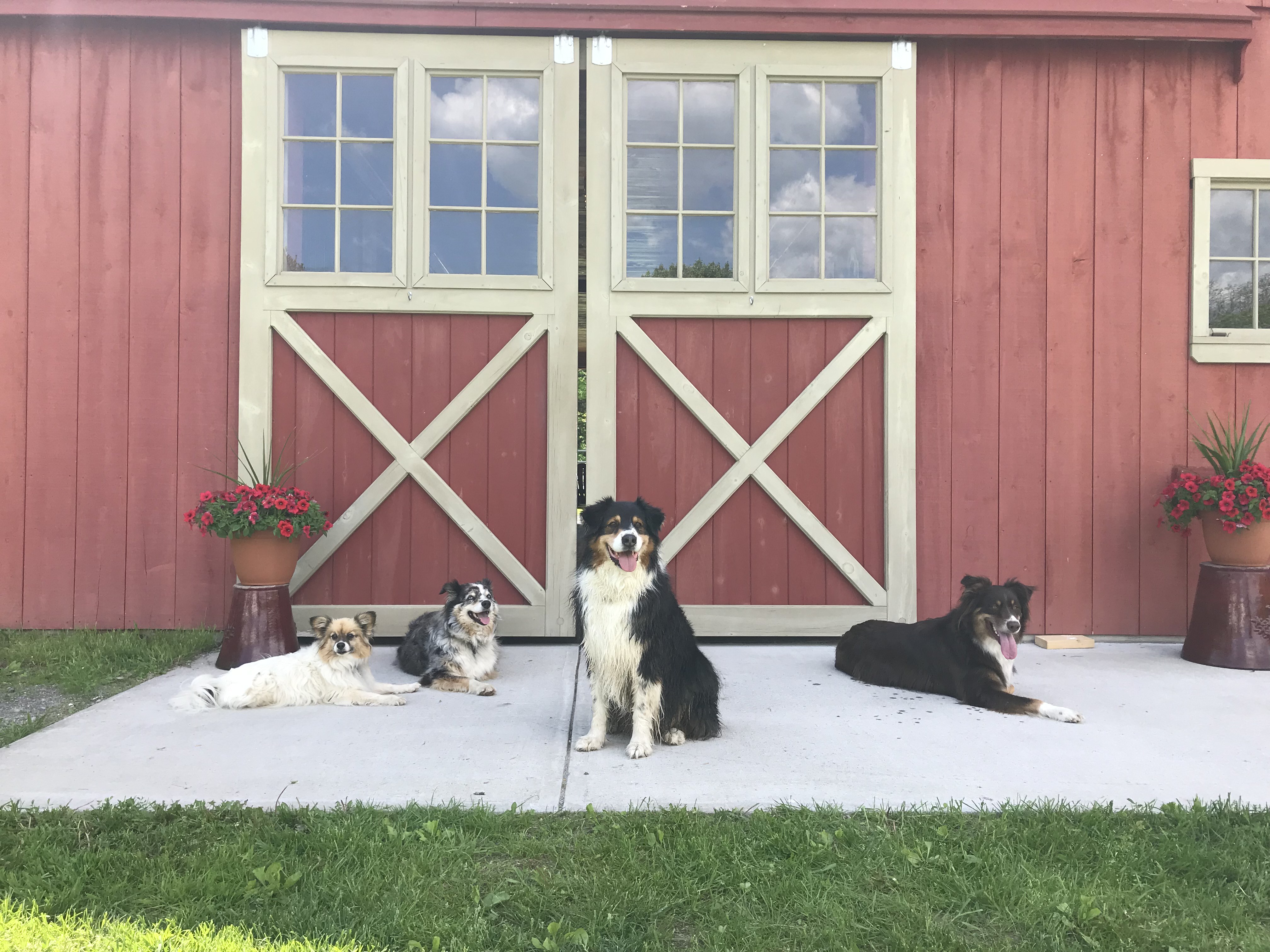 Day Boarding
---
All fun, no stress doggie daycare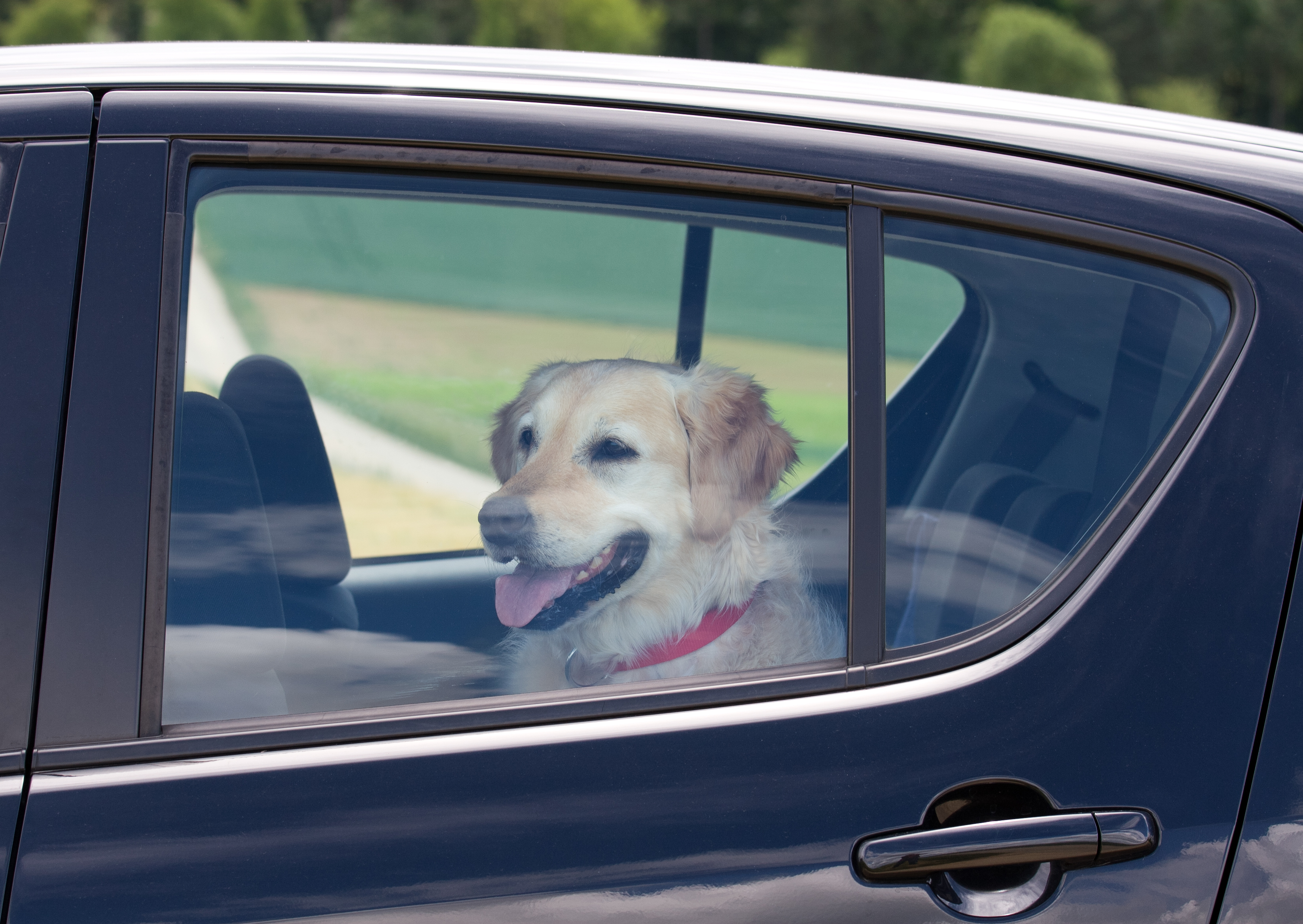 Taxi Service
---
Round Trip
Here's what some of our clients are saying:
Where to begin?? Jen and crew are fantastic! From scheduled dog walks to last minute dog walks, from a weekend stay at the Bed and Biscuit to 2.5 weeks at the Sharon Springs Farm while we went away, our pups have been taken care of and treated like part of the family. Jen was fantastic and sent us regular updates and pics throughout Missy and Gradey's stay. Our dogs are a bonded senior rescue pair and given that we've only had them for almost a year, we were definitely nervous! Jen put us at ease and even gave us a tour of the farm! Gradey and Missy had a chance to go for a swim in the pond and had a great time. They got lots of snuggles and attention and between having a chance to play with the other dogs and the kids (Gradey loves kids!) they were in heaven! We had one situation where Gradey had a relapse and had a hot spot (he's got severe allergies) and Jen notified us right away and in addition to treating him with the topical we had sent along prior, she also went out of her way to pick up antibiotics from the vet's office and even offered to pick up a refill of his allergy meds the day she was dropping them off!! It has truly been a wonderful experience for them and us and will always be our go to place for everything from boarding to walks to anything else! Highly recommended!

We had Jen and Hounds on the Hudson take cake of our little guy while we went to the west coast to get married. He had a blast! I fully trusted that he was taken care of while we were gone. Jen sent pictures to help ease my angst. He came home exhausted, which is always a sign he has had way too much fun! Thank you so much Jen for taking such good care of our little one. I highly recommend Hounds on the Hudson if you want your little one to play, be pampered, and receive plenty of snuggles.

My shepherd, Max, spent 4 nights and 5 days boarded at the farm while I was on vacation. He came home thoroughly exhausted and very content. I have utilized Hounds for walks, play groups, training and boarding. I am so thoroughly impressed with the care my dog receives and how much I have learned about being a single pup parent. Hounds is second to none and I highly recommend their services!

About a year ago when we were looking for a place to board our dogs while on vacation, we tested out a few places, brought our dogs for a few hours here and there, but after a few hours and touring other places we didn't come across any that made us feel content to leave them there through out our stay. We have a Siberian Husky and an Alaskan malamute, both who need room to run and play to release their energy so when we found hounds on the hudson's farm boarding the decision

 was unanimous.

Leaving our dogs with them made us feel at ease. Jen and her team kept us in the loop on how Lupin & Luna's stay was going. Our dogs were truly on vacation while we were on vacation. They had room to run, play, swim and we're given the same freedom to roam as they get at home. I would highly recommend Hounds on the Hudson to anyone! We now utilize them for all our boarding needs.

Our dog (a Labrador retriever) LOVES Brickhouse Farm!  She always comes home tired but very happy!  Hounds on the Hudson has brought peace of mind to our family while we are away.  We know that our dog is well cared for, enjoying the outside, and getting plenty of exercise.

Brickhouse Farm is a home away from home for our dog. It is a safe environment that allows the dogs to run and play and to be dogs.  There are "no worries" when our dog is at the Farm and that peace of mind is priceless.

Our dog, Brodie, absolutely loves spending time at Brickhouse Farm!  The best way to describe Brickhouse Farm is doggie freedom.  It's such a relief to know that when we're away, our pup is being taken care of by people who absolutely love what they do.  While we, wholeheartedly, trust every employee at Brickhouse, Brodie loves the freedom he gets while he's there.  He gets to run, play, swim and snuggle with the other pups.  What dog wouldn't be happy?!  There are no kennels, so he's not cooped up in a crate all day.  Brickhouse Farm is an amazing place.  We are so grateful that the staff take such good care of Brodie while we're away.  

Our dog Deefer just spent an excellent week at Brickhouse Farm while we were out of the country on vacation. We live in Brooklyn but drove him to Albany (where some of our family lives) specifically so he could board at the farm. What a delight for him (and us). He had the best time staying there for a week, running around exploring and getting such good socialization time. Jen and the team kept us updated with daily texts, pics and videos. Definitely worth the trip for us knowing he's being so well taken care off, and isn't stuck in one room for a week with one walk a day. Definitely our go-to spot for long term daycare.